Cacao Latte is the only hot chocolate that contains gut-loving prebiotics and probiotic to nurture your microbiome. Each delicious serve delivers a powerful synbiotic combination containing over 2 billion CFU of clinically proven, heat resistant probiotics and gut microbiome balancing prebiotics.

Aside from gut-nurturing pre and probiotics, Cacao Latte is packed with naturally present iron, calcium, zinc and potassium. It's an indulgent, 100% natural approach to promote diversity of your gut microbiota, and enhance your gut health for better overall health and wellbeing!
Regular price
Sale price
$39
Unit price
per
Sale
Sold out
View full details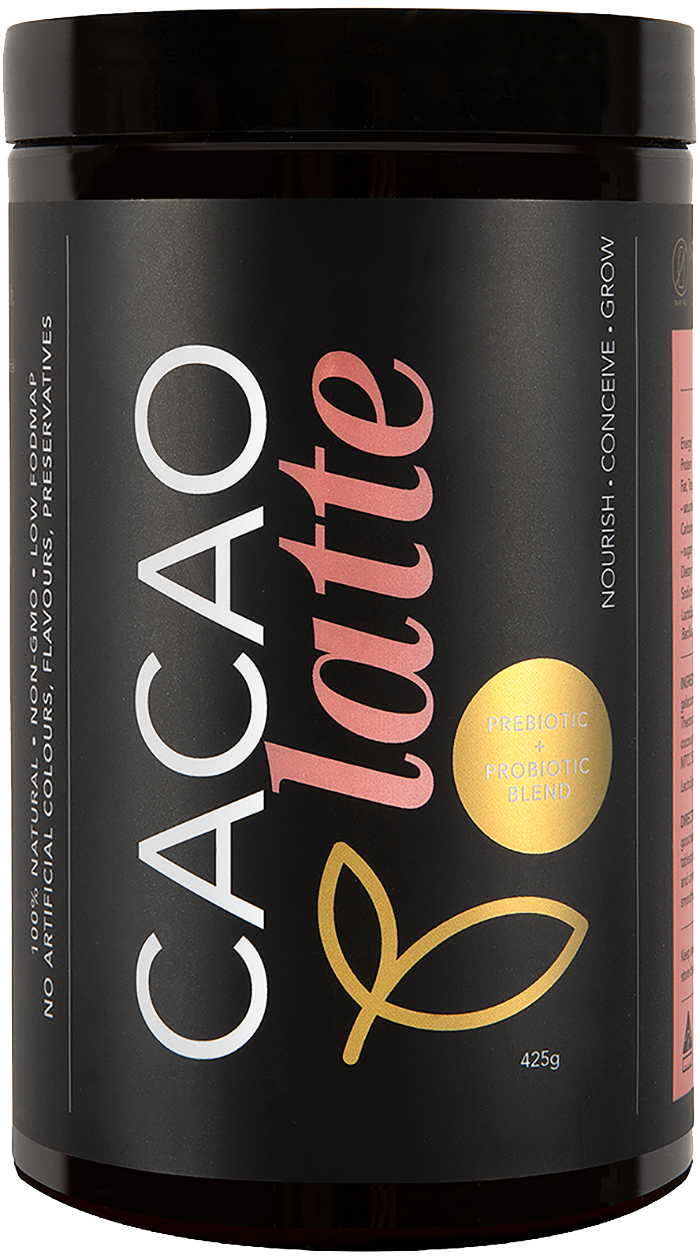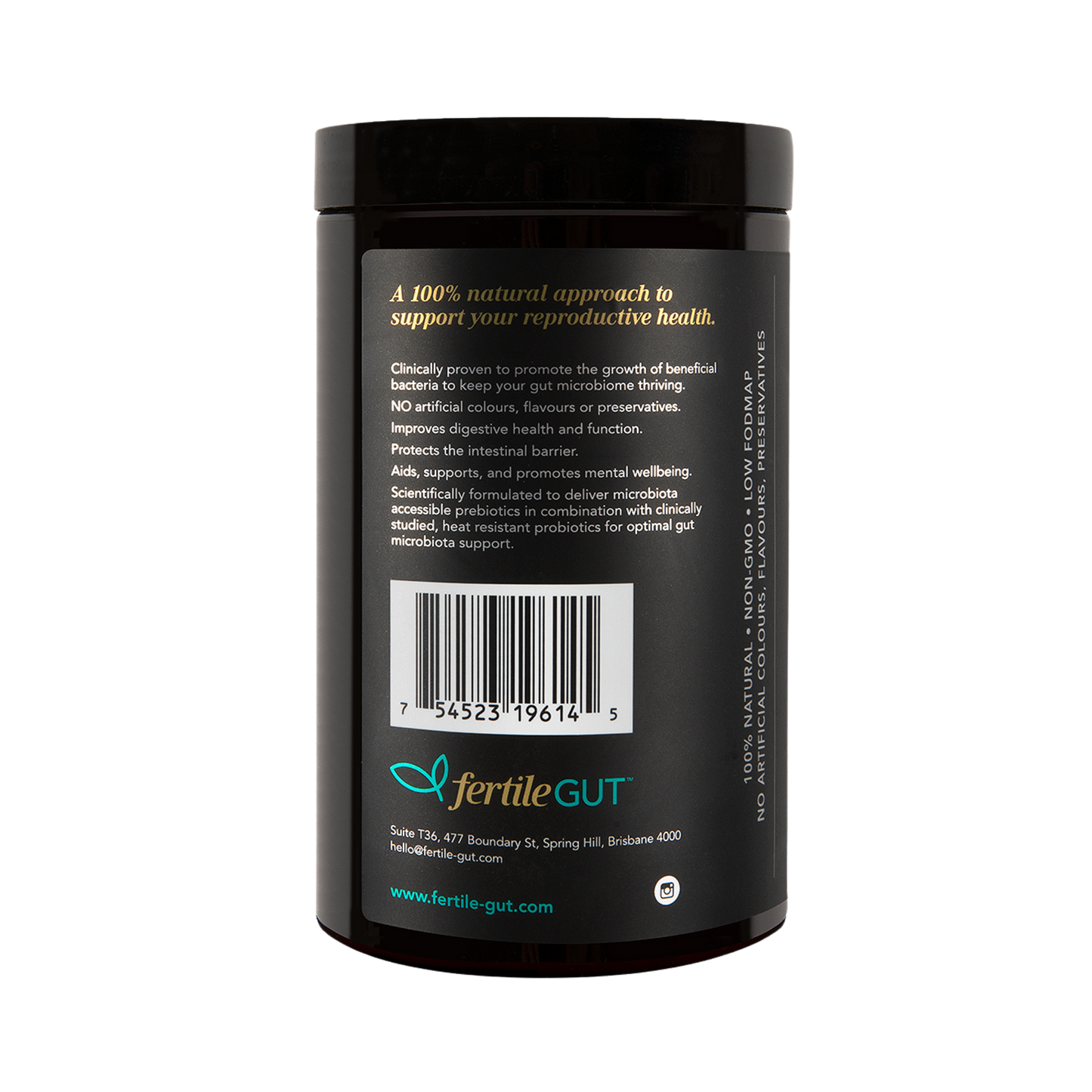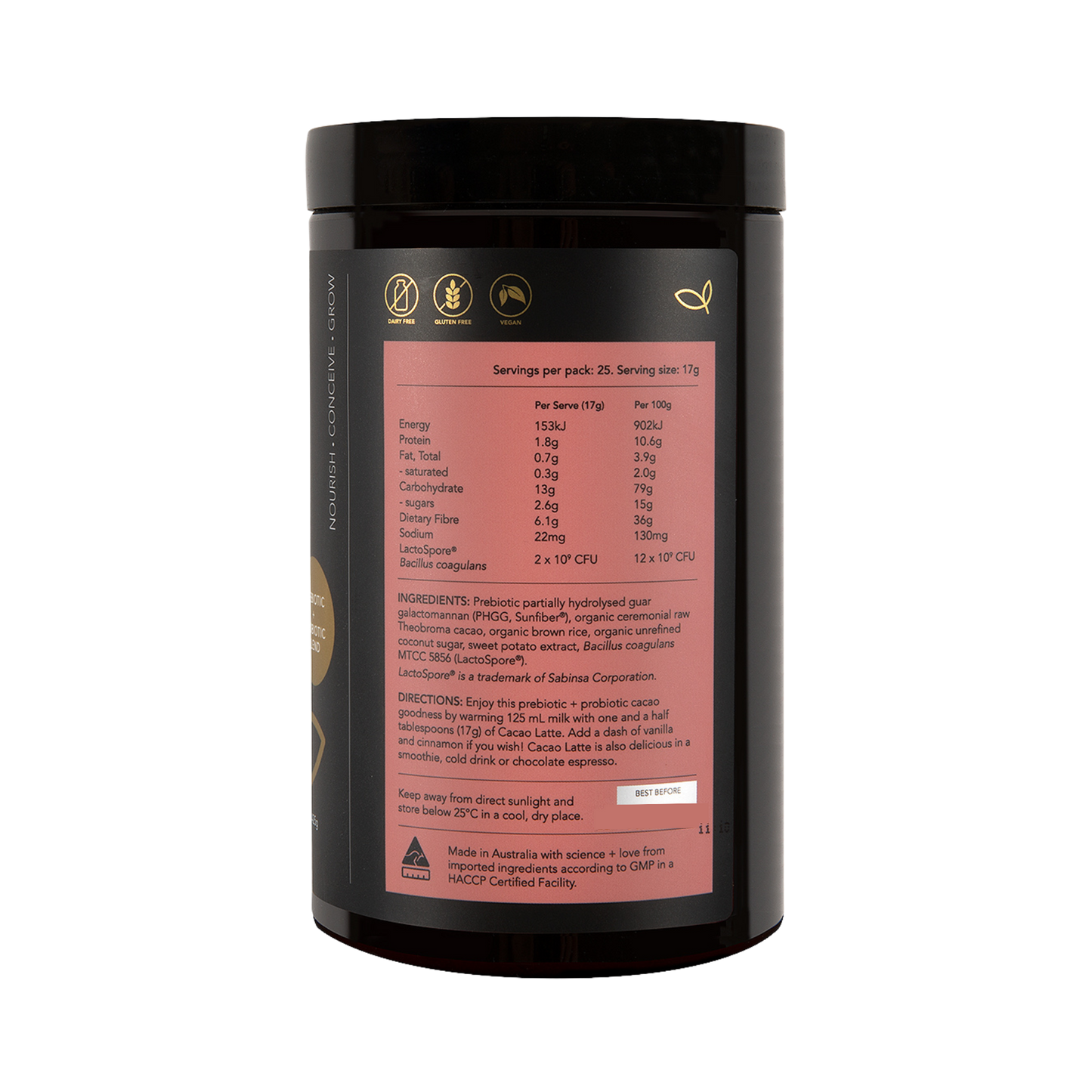 Cacao Latte Goodness
What are the Benefits?

Gut health and our overall health & wellbeing go hand in hand. That's why we've brought together safe, science-led and prebiotic-packed essentials to nurture your gut microbiome.

Our scientifically selected ingredients are clinicaly shown to:

Reduce, ease and improve symptoms of stress.
Support and improve the health and diversity of the microbiome.
Promote and improve healthy bowel function and regularity.
Reduce digestive discomfort including indigestion, bloating and gas.
Reduce irritable bowel discomfort.
Contributes to reduced feelings of hunger.
Contribute to improved sleep.
Stimulate Bifidobacterium and butyrate producing bacteria.
Enhance intestinal integrity.
Increase the production of beneficial short chain fatty acids.

Our key gut diversity prebiotic is 100% naturally sourced partially hydrolysed guar gum.

This low FODPMAP proven prebiotic boosts the growth of beneficial bacteria to nurture your microbiome.

Each serves delivers 2 Billion CFU of clinically studied Bacillus coagulans, MTCC 5856. Research supports the effectiveness of this probiotic strain to reduce bloating, gastrointestinal issues and abdominal pain, and improve mood.

Bacillus coagulans is heat resistant, increases the production of health loving butyrate and when combined with our key prebiotic in Cacao Latte this probiotic reduces the growth of pathogenic bacteria such as E. coli ATCC 25922.

This synbiotic combination also benefits immune-modulation and regulation of cholesterol and blood sugar levels to support metabolic health.

Organic raw cacao delivers so many gut and health nurturing micronutrients including the micronutrients iron, calcium, zinc, manganese and potassium.

Once this cacao goodness reaches your intestine it exerts its prebiotic effects transforming into bioactive metabolites that enhance gut health.

These flavanol-rich cacao derivatives also increase nitric oxide production for better blood flow, boost mitochondrial health and reduce inflammation.

Organic brown rice powder is packed with phenolics, flavonoids, anthocyanins and proanthocyanins, B vitamins, essential amino acids and dietary fibre.

These antioxidant and anti-inflammatory compounds deliver prebiotic benefits, helping nurture your gut microbiome.

Getting more synbiotic goodness in your day is a proven strategy to lower inflammation and oxidative stress, regulate metabolism, bring your hormones back to balance, restore energy and improve sleep.
Scientifically Selected Ingredients

Prebiotic Partially Hydrolysed Guar Galctomannan (PHGG, Sunfiber®), organic ceremonial raw Theobroma cacao, organic brown rice, organic unrefined coconut sugar, sweet potato extract, Bacillus Coagulans MTCC 5856 (Lactospore®)

Dairy Free, Gluten Free, Non-GMO, Vegan, No artificial colours , flavours or preservatives.
How to Enjoy a Cacao Latte

Enjoy this prebiotic and probiotic goodness by mixing 17g (1.5 tablespoons) of Cacao Latte with 125 mL of your favourite milk or mylk. Mix in the blender for an extra velvety texture! Enjoy hot or cold.
"I have had digestive issues for as long as I can remember - my gut finally feels like it is healing! The cocoa latte also tastes delicious in my morning coffee. I will be buying again!"

-N.B
Clinically Backed 100%
Natural Ingredients

Vegan. Gluten free.

Non GMO

Nothing artificial.
No colours, flavours, fillers or preservatives.
Balance Your Gut microbiome
It's Science That Puts You First
Organic Raw Fermented Cacao
Supports gut health thanks to prebiotic, active phytonutrient and antioxidant-rich flavonoids

Organic Brown Rice Powder
Nurtures your gut microbiome with antioxidant and anti-inflammatory compounds, vitamins and amino acids

PHGG
Supports and enhances the growth of beneficial microbiota for better hormone balance, reduced inflammation, digestive health, IBS support and reduced dysbiosis.

Clinically Proven Probiotic
Heat resistant LactoSpore® proven to reduce bloating, gastrointestinal issues, and abdominal pain and improve mood
I love it :)
This Delicious Yummy Taste of Gut Health Drinks is by far my replacement of a cup of daily coffee. I drink it everyday once I get up from bed, and notice my gut health tummy has been slowly improving. I'm looking forward to my own body heal for a better fertilisable body and health conditions. Thank you!!
Delicious! I've been having each morning instead of coffee and loving it!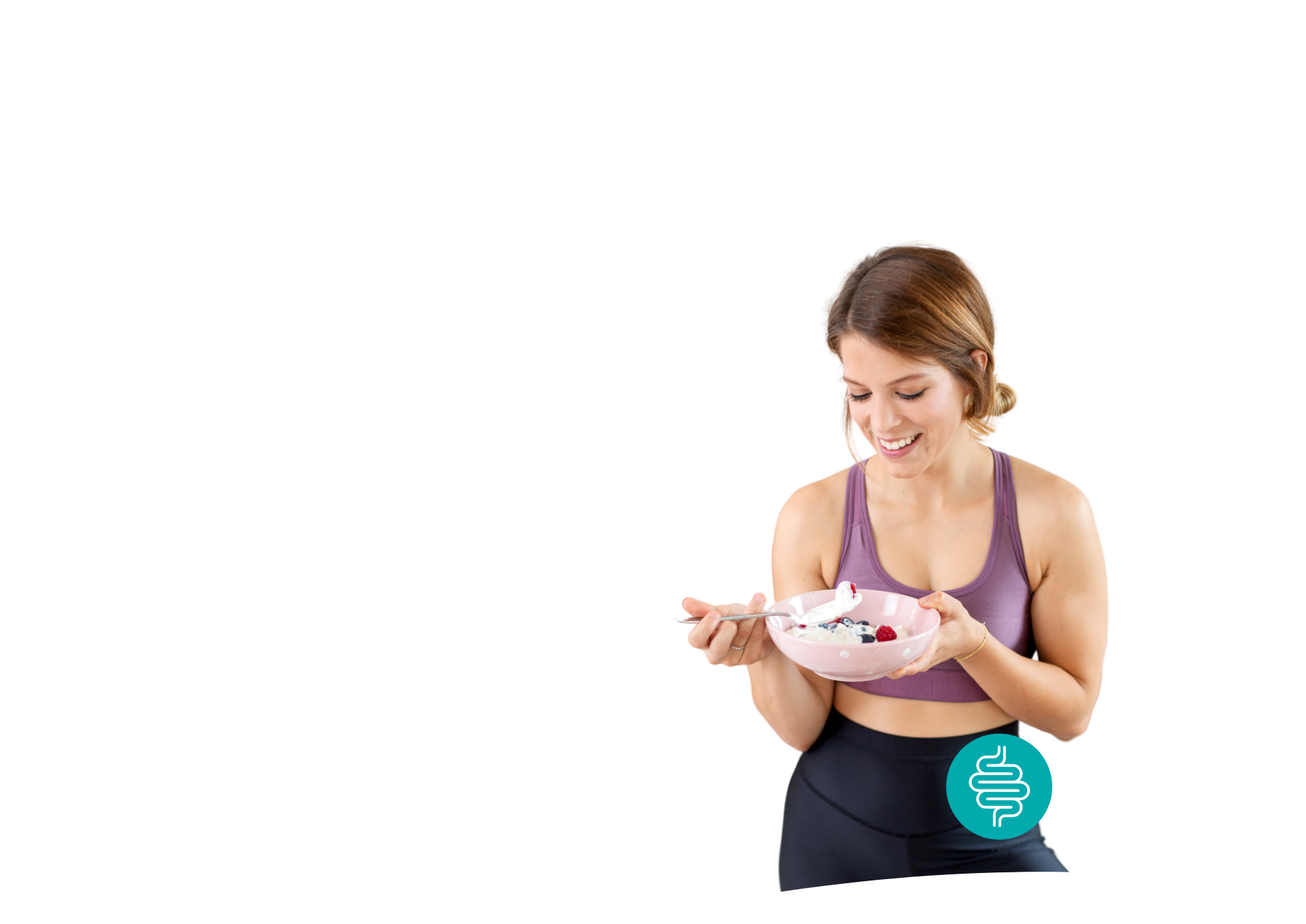 What Fertile Gut is All About
Using Safe, Effective & Clinically Backed Ingredients Only
We want what's best for you! This means we're picky about what we bottle, so you can rest assured only safe, natural goodness ends up nourishing your gut. Only the ingredients you need and absolutely no artificial colours, fillers or preservatives.
Addressing Fertility at the Foundation by Nurturing Gut Microbiota Diversity
By nurturing your gut microbiota with our science-led ingredients, you will be creating a Fertile Gut!
Optimising your Wellbeing
Always rooted in science, our prebiotic and active phytonutrient-rich formulas to aid, support and improve the health and diversity of the microbiome.
The Results Are in!
Hundreds of people LOVE Fertile Gut
I couldn't be more grateful

It hasn't been until taking Fertile Gut that I have seen such a marked change in PCOS. I couldn't be more grateful for how this product has improved my dysbiosis occurring in my gut and restoring it to good health!

-Rachel

Amazing

"I have had digestive issues for as long as I can remember - my gut finally feels like it is healing! The cocoa latte also tastes delicious in my morning coffee. I will be buying again!"

-N.B

I honestly think it had made the biggest difference

I just got my Positive test after trying for 14months. I've been consistently using the microbiome and cacoa latte for about 7 months now and I honestly think it had made the biggest difference, this is coming from someone who had endo, pcos and hashimotos. Thankyou so much for creating / having the best product.

-E