Cacao Latte is the only hot chocolate that contains gut-loving prebiotics and probiotic to optimise your fertility and this value pack contains double the fertile gut goodness! Each delicious serve delivers a powerful synbiotic combination containing over 2 billion CFU of clinically proven, heat resistant probiotics and gut microbiome balancing prebiotics.

Aside from gut-nurturing pre and probiotics, Cacao Latte is packed with naturally present iron, calcium, zinc and potassium. It's an indulgent, 100% natural approach to promote diversity of your gut microbiota, and enhance your reproductive health for conception and beyond.
Regular price
Sale price
$71
Unit price
per
Sale
Sold out
View full details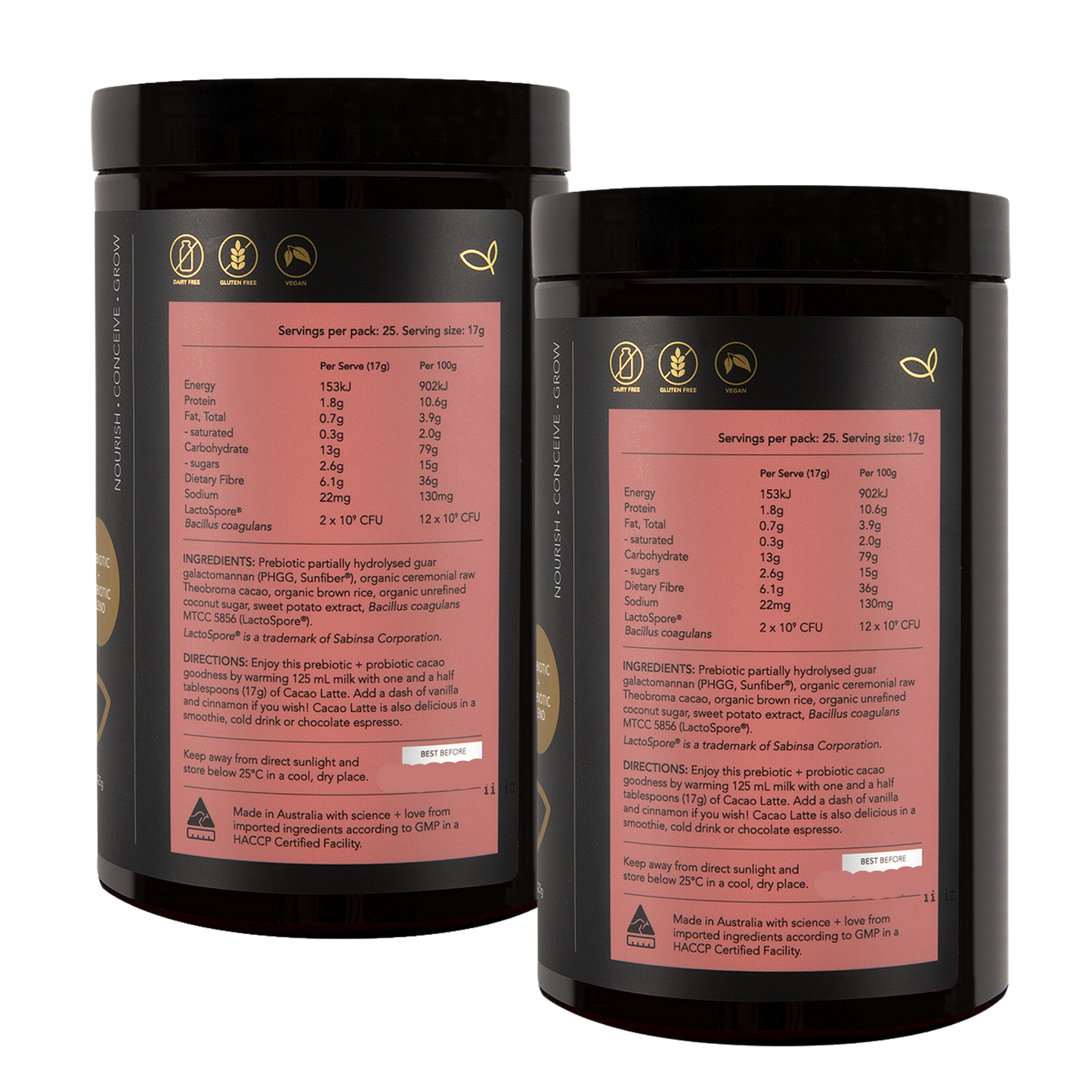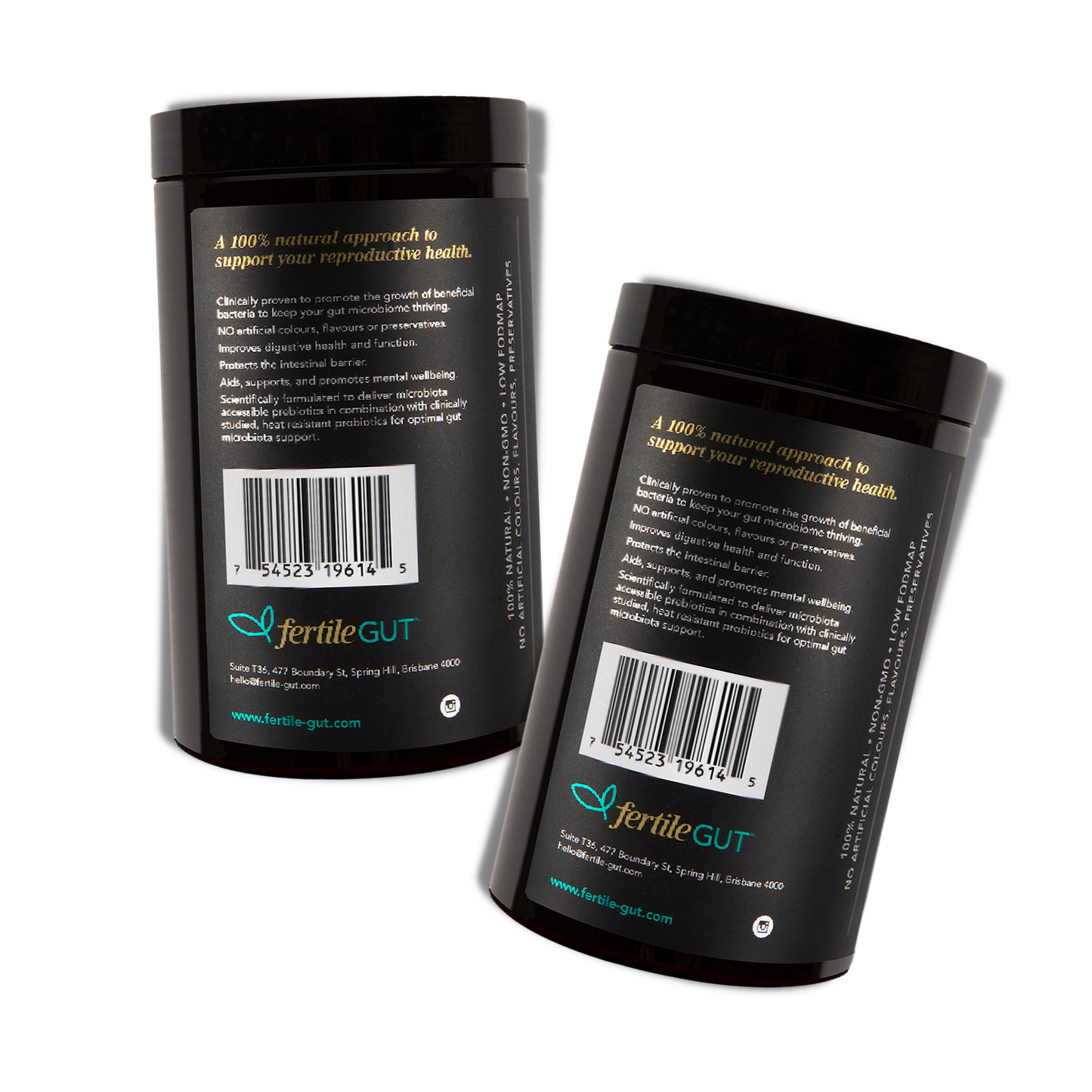 "I've been taking Microbiome Essentials and Cacao Latte for a few months now and loving it. I just found out I am pregnant!"

-T
Clinically Backed 100%
Natural Ingredients

Vegan-friendly
Gluten free. Non GMO

Support Microbiome Diversity

Nothing artificial.
No colours, flavours, fillers or preservatives.
Balance Your Gut microbiome
It's Science That Puts You First
Organic Raw Fermented Cacao
Supports gut health thanks to prebiotic, active phytonutrient and antioxidant-rich flavonoids

Organic Brown Rice Powder
Nurtures your gut microbiome with antioxidant and anti-inflammatory compounds, vitamins and amino acids

PHGG
Supports and enhances the growth of beneficial microbiota for better hormone balance, reduced inflammation and pregnancy success.

Clinically Proven Probiotic
Heat resistant LactoSpore® proven to reduce bloating, gastrointestinal issues, and abdominal pain and improve mood
Love the Cacao
The Cacao Latte is delicious and now a part of my morning ritual.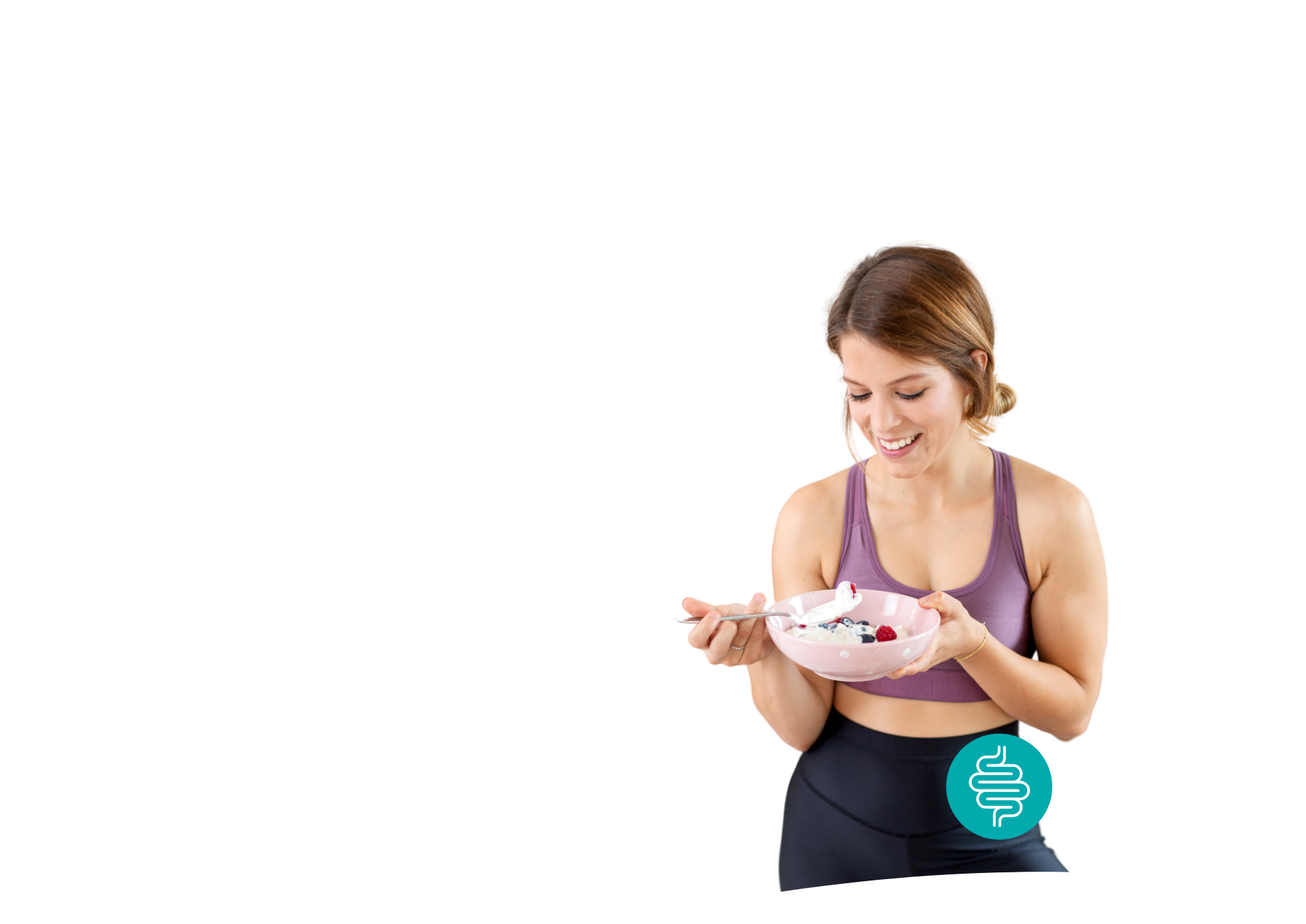 What Fertile Gut is All About
Using Safe, Effective & Clinically Backed Ingredients Only
We're picky about what we bottle. This means we only use safe, natural ingredients proven to optimise your reproductive health.
Addressing Fertility at the Foundation by Nurturing Gut Microbiota Diversity
By nurturing your gut microbiota with our science-led ingredients, you will be creating a Fertile Gut!
Optimising your Wellbeing
Always rooted in science, our prebiotic and active phytonutrient-rich formulas to aid, support and improve the health and diversity of the microbiome.
The Results Are in!
Hundreds of people LOVE Fertile Gut
I couldn't be more grateful

It hasn't been until taking Fertile Gut that I have seen such a marked change in PCOS. I couldn't be more grateful for how this product has improved my dysbiosis occurring in my gut and restoring it to
good health!

-Rachel

For the first time EVER I've had a painless period

I've been taking this product for two months and for the first time EVER I've had a painless period assuming it's because of fertile gut! Thank you so much

-

I honestly think it had made the biggest difference

I just got my Positive test after trying for 14months. I've been consistently using the microbiome and cacoa latte for about 7 months now and I honestly think it had made the biggest difference, this is coming from someone who had endo, pcos and hashimotos. Thankyou so much for creating / having the best product.

-E